Requests for repeat prescriptions must be in writing (unless you are housebound), this reduces the possibility of mistakes and ensures we are able to keep your records accurate.
To Order:
Use our website; you will need to obtain a password from reception to start, (online orders are withheld if your medication is due for review-please call the surgery for assistance if this occurs)

Email us at

cmicb-war.causewaypx@nhs.net

with your name, dob & the items you require

Send a stamped addressed envelope to us, we will post your prescription back to you, please allow a few extra days for the post to reach you.

Ask your usual pharmacy about their delivery service.

Register with an online pharmacy delivery service.
Over the counter medicines in nurseries and schools
If you're prescribed a medicine to treat a long-term condition for the first time, you may be able to get extra help and advice about your medicine from your local pharmacist through a free scheme called the New Medicine Service (NMS).
New Medicine Service (NMS) - NHS (www.nhs.uk)
Across Warrington, GP's and other health professionals will no longer routinely prescribe medications for short term minor health problems.
NHS Warrington CCG undertook a formal public consultation on these proposals which received overwhelming support. On average 87% of people agree that, unless there are exceptional circumstances, patients will be expected to buy the medicines listed below themselves over-the-counter at a local pharmacy or supermarket.
Medicines include:-
- Pain killers for minor aches and pains - Hair removal creams
- Tonics, health supplements and vitamin - Moisturisers and bath additives for dry skin
- Earwax removers - Creams for bruising, tattoos and scars
- Lozenges, throat sprays, mouthwashes, gargles & toothpastes
- Sun cream (unless diagnosed photosensitivity as a result of genetic disorders
- Food and food supplements (except on the use advice of a dietician)
- Indigestion remedies for occasional use
Why?
NHS Warrington Clinical Commissioning Group (CCG) spends approximately £1 million per year on prescribing these medicines.
This money could be better spent on treating more serious conditions such as heart disease and diabetes. Many of these products are readily available, along with advice, from local pharmacies. Some are also available from local shops and supermarkets.
For further information please contact www.warringtonccg.nhs.uk
The NHS App to order repeat prescriptions
Choose a nominated pharmacy
You can change where you collect your prescriptions – this is called your nominated pharmacy. It's where the patient's prescriptions will be sent, after they have been issued by the GP.
Log-in to your NHS App and select 'Prescriptions' from the navigation options at the bottom of the screen.
Select the 'Your nominated pharmacy' option to check your prescription will be sent to the pharmacy of your choice. You can change your nominated pharmacy at any time. It's best to do this before you order anything. Any prescriptions already ordered and in transit, will be delivered to the pharmacy nominated at the time of request.
Step 1 - Your nominated pharmacy
To makes any changes, select the 'Change your nominated pharmacy' button.
A message on screen will confirm any outstanding prescriptions will still arrive at your current nominated pharmacy. Any changes you make to your nominated pharmacy are for new prescription requests. Confirm you have read the message by selecting 'Continue'.
Step 2 - Choose a type of pharmacy to search for
Select 'High street pharmacies'.
Step 3 - Find a high street pharmacy
Use the box to enter the full UK postcode for the area you want to search.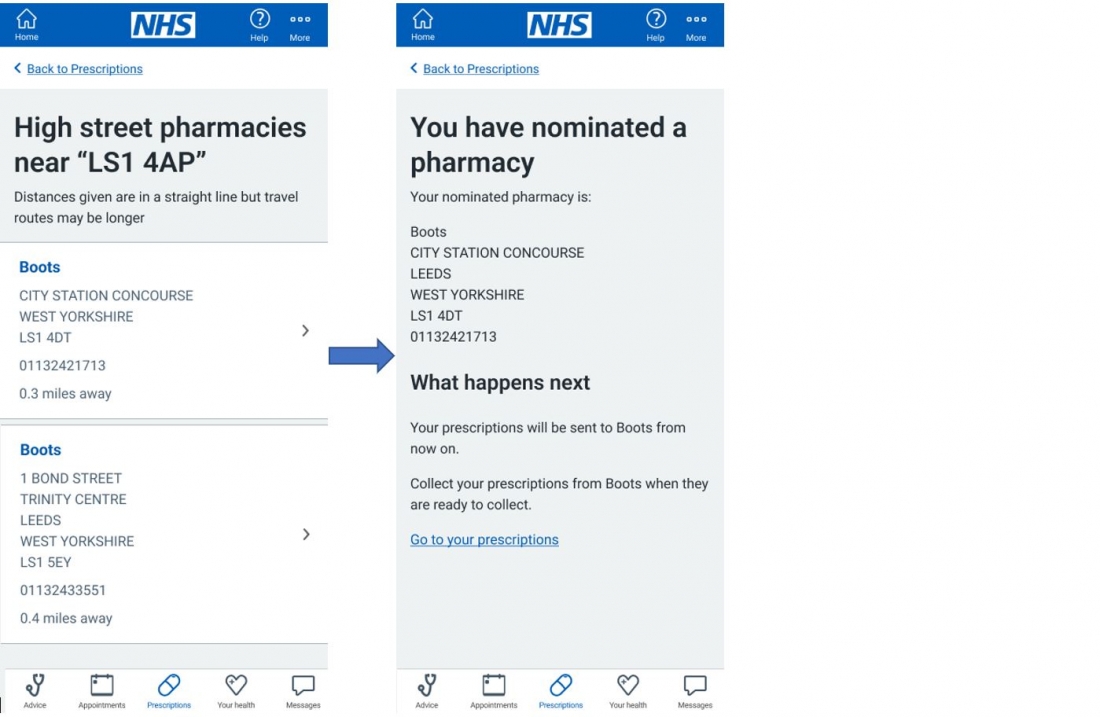 Step 4 - High street pharmacies near postcode
Review the list of pharmacies shown - these are displayed by distance from the postcode you entered. Choose the pharmacy where you want your prescriptions to be sent to in the future and select 'Confirm'.
Step 5 - You have nominated a pharmacy
Confirmation screen you have changed your nominated pharmacy. Future prescription requests will be sent here after they are approved by your GP surgery.
Request a repeat prescription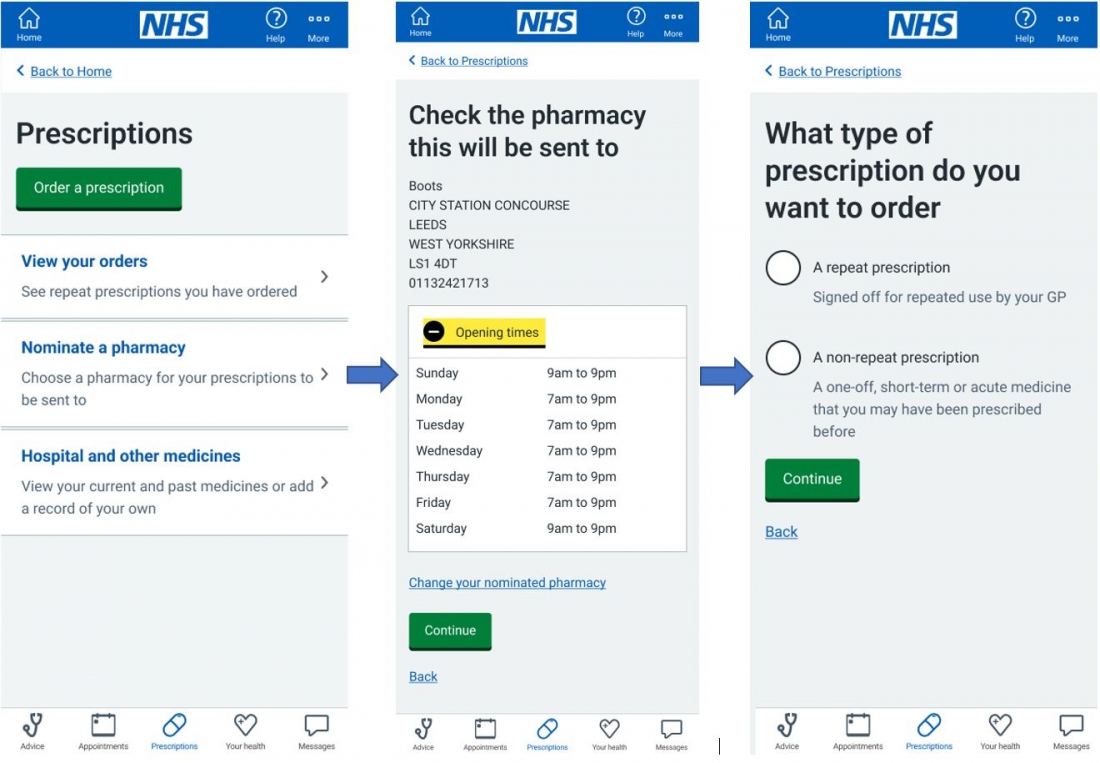 Step 1 - Prescriptions screen
Select the 'Your nominated pharmacy' option to check your prescription will be sent to the pharmacy of your choice. You can change your nominated pharmacy at any time. It's best to do this before you order anything, so your prescription goes to the right pharmacy.
Step 2 - Check the pharmacy it will be sent to
See 'Choose a nominated pharmacy' above.
If you're happy with your nominated pharmacy, select 'Back' to return to the previous Prescriptions screen.
Select the 'Order a Prescription' button.
Step 3 - What type of prescription do you want to order?
There are two options, a repeat prescription, and a non-repeat prescription. Non-repeat prescriptions are one-off medicines you may have ordered before. Contact your GP surgery to order non-repeat prescription, as this service is unavailable through the NHS App.
Choose 'A repeat prescription' and select 'Continue'.
The next screen shows the medicines available for you to request. Choose the medicines you require and select continue. If needed, there is a free text box to add a note for your GP.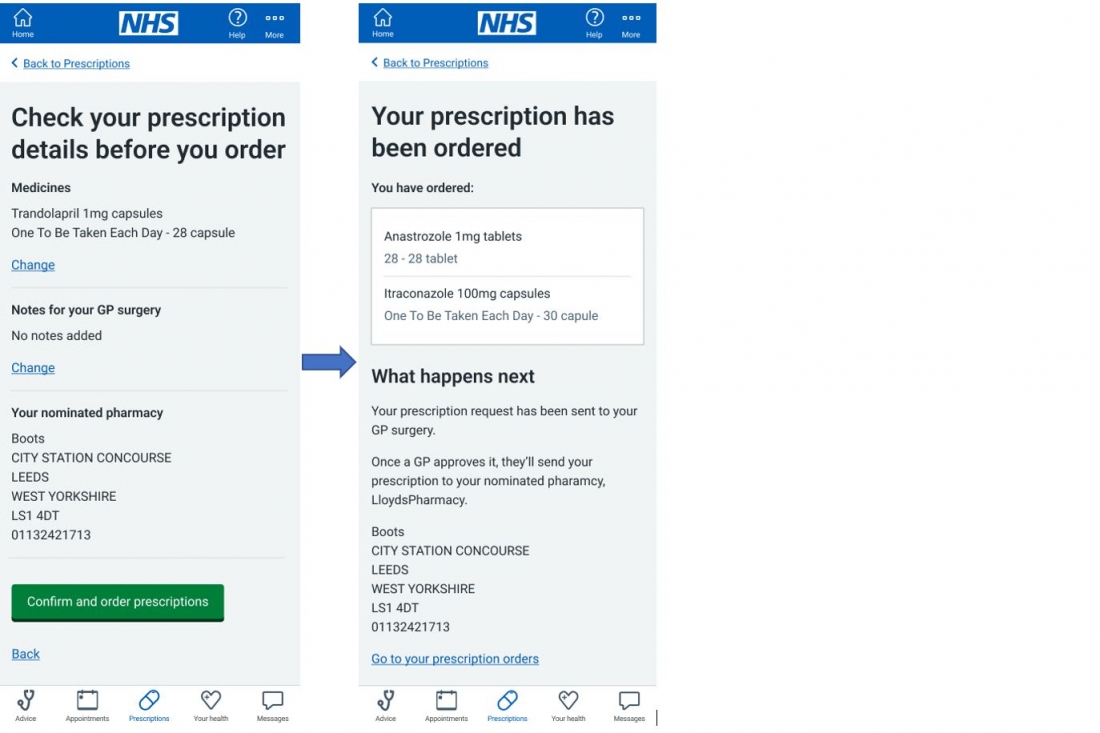 Step 4 - Check your prescription details before you order
Check your order and nominated pharmacy are correct, then select 'Confirm and request your prescription'. If you need to make any changes, select the 'Back' option to return to the previous screen.
Step 5 – Your prescription has been ordered
You request is confirmed and will now be sent to the GP surgery for approval. Once the prescription is approved it will show as issued on your order summary screen and will be sent through to your nominated pharmacy. Your pharmacy will advise when your prescription is ready to collect - contact them directly with any queries.
View your orders
To view your current and previous prescription orders, log-in to your NHS App and select Prescriptions from the navigation options at the bottom of the screen.
Step 1 - PrescriptionsSelect 'View your orders'.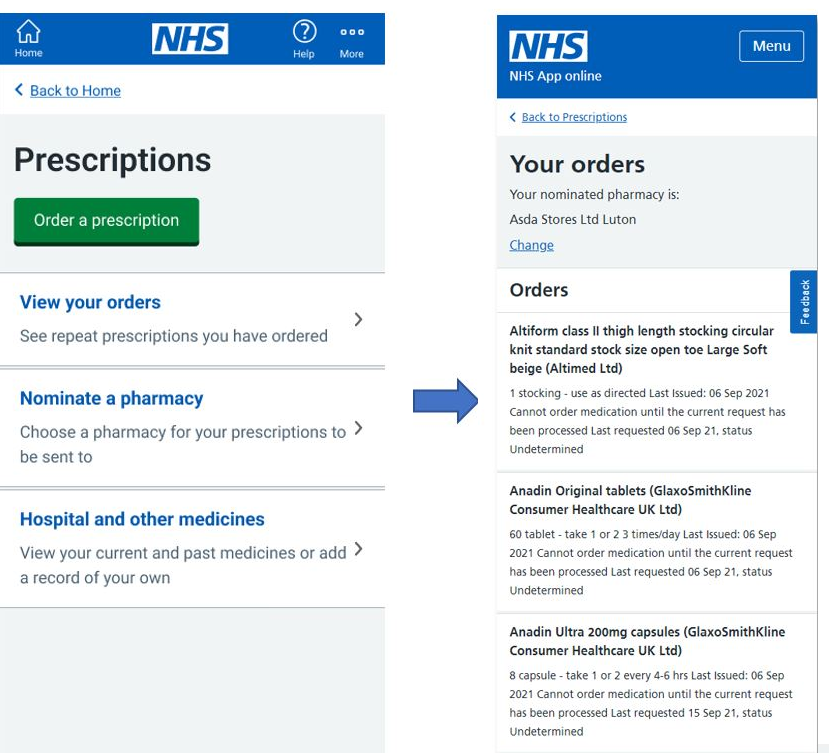 Your previous and current repeat prescription orders will be shown in a list format, similar to one of these demo screens. Your nominated pharmacy is displayed at the top of your screen. Contact your GP surgery or your pharmacy with any queries regarding the status of your repeat prescriptions.
What if I have run out of my medication?
In the majority of cases a repeat prescription is processed within 48 hours; online ordering and use of the Electronic Prescription Service will speed up the process time. Urgent requests for a prescription will be dealt with in accordance with our urgent prescription policy. Urgent items will only be issued if the patient has no further supplies for that day and only includes the following items:-
GTN spray
Salbutamol inhaler
Insulin
Adrenaline/anaphylaxis pen eg EpiPen
Palliative care patients (eg morphine, syringe driver medication etc)
Any urgent requests will be processed at the end of the Doctor's surgery so the patient will have to return between 6-6.30pm to collect the prescription; urgent medication will only be issued at the Doctor's discretion.
It is the patient's responsibility for ensuring all items are ordered with 48 hours notice and requests for items to be issued earlier cannot be guaranteed. Patients are expected not to order items that they don't need that month; patients must not order medication more than 7 days early.
If a medication has not been requested for some time the receptionist will ask a reason for the request and this reason will accompany the request to the clinical staff.